Paul Hand began his journey in natural medicine when he began training in Taijutsu (natural body movement) in 1987. At 19 years old he started teaching his own class becoming one of the youngest teachers in the country. Almost ten years later Paul become the first Amatsu Therapist in Yorkshire and subsequently the first teacher.
Spending much time training in Japan, Spain and the U.K. with Dr. Masaaki Hatsumi he has broadened his experience in Amatsu and martial arts, meeting many exceptional people along the way.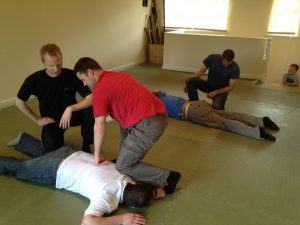 Paul has done much to promote the principles of Dr. Hatsumi both locally and at a national level, including serving as vice-chairman on the Amatsu Natural Medicine Association. Amatsu medicine is now firmly established in the Yorkshire region due to Paul's efforts.
Through his years of teaching Amatsu in England Paul has had a long standing relationship with Amatsu in Ireland as both a student and teacher. He now offers his experience and knowledge over the waters in Ireland and provides practitioner and Continuing Professional Development training.
Whilst the World was in lockdown and training came to a stand still Paul wanted to offer an extra outlet for learning this wonderful art of Amatsu. This is what birthed Amatsu Online and the current Anma foundation course and website.